MEET THE BARTENDERS
Please enjoy a brief fun bio of each of the 32 bartenders competing in "Shaken" over 11 weeks. Keep checking back to keep up to date of the next bartender featured.
Meet Ayme Harrison…Ayme is the darkly dressed woman behind Fort Lauderdale's Kreepy Tiki Bar & Lounge. Despite her entirely black wardrobe, her dark tiki bar that is connected to a tattoo shop and her slightly intimidating appearance.. she is not a dominatrix. She's a lover of Tiki drinks and High West Campfire and not so fond of 90's cocktails, trendy shit and Winona Ryder…unless she is playing Lydia from Beetlejuice.
Meet Yanais Ramos…Yani is the woman behind the stick at Miami's Upper East Side's new haunt, The Anderson Bar. Like many of our other contestants, she enjoys her midweek shifts when the flow is perfect and her guests are typically open to letting her be creative. She enjoys to sip on a proper Vieux Carre but adding a hint of fresh grapefruit or Solerno Blood Orange Liqueur really makes her tongue tingle with excitement. This Miami do-gooder spends much of her free time raising money for Fairchild Palms, a Non Profit Organization and learning Vietnamese cuisine by working as a stage with Chef Cesar Zapata.
Meet Anthony Lill…Anthony is the Casanova behind the bar at The Wine Dive in West Palm Beach. This Johnny Depp doppelgänger prefers to work on Ladies Night (every Tuesday), where he gets to showcase his signature cocktails to a captive audience. When not working Anthony can be found at the beach, trying to figure out how his "Watermelon Mojito" could possibly taste like watermelon?? Lol! Let's see if this Indiana native can make Clematis St. proud…
Meet David Bouchard…David is the Chartreuse loving and Cosmo slinging new Beverage Director at Nitrogen Bar, Grill, and Sushi in Jupiter. He seems to truly enjoy every night at his new gig but Tuesdays hold a special place in his heart when his groupies show up to ooh and aah over his latest concoctions. When not working David can be found doing the good work of the USBG, playing his guitar and finding new ways to express himself creatively. Once the best bartender in Palm Beach Gardens and now the best (maybe the only) in Jupiter, Bouchard is poised to make Connecticut proud and win our inaugural event.
Photo Credit: Libby Vision
Meet Hauk Cornell…Hauk is the man behind the infusions at the brand new Hilton West Palm Beach. Tuesdays are the best night catch him in action, when he has plenty of time to converse and experiment with new cocktails. He's a family man, an artist in his free time and an old TV show buff. This West Palm native is thrilled the Negroni has made a resurgence and believes the molecular mixology is the next big trend to take Florida by storm…
Meet Carlos E Morales…Carlos is your Argentinian gunslinger behind the bar at Starr Restaurants Steak 954 in Fort Lauderdale. He particularly likes working Tuesdays, where he can tell tails of crushing Malbec grapes back in his homeland of Mendoza. When not pulling pranks on his co-workers, Morales enjoys catching up on the latest flicks and day dreaming of the day the Harvey Wallbanger becomes fashionable again…Well good news Carlos, it already is!

Meet Robert Dolder…Rob is the young gunslinger at Jordan and Stephanie Cohen Lerman's West Palm Beach hot spot Jardin. Rob is new to the scene, learning the ropes at Sweetwater in Boynton Beach and cutting his teeth around Atlantic Ave for the past year before landing in his new digs. While not hand cutting ice or slinging one of Jardin's seasonal cocktails, Dolder can be found doing…I'm not quite sure, he's a man of mystery.
Meet Josh Gates…Josh is one of the main guys behind Lake Worth's long standing pop-up, Tiki-Ono. He's there most nights but particularly likes Mondays where all his ITB friends flock in for 50% off cocktails and DJ Alex Gregory. When not slaving away in the hot sun, you can find Josh peddling Martin Miller's Gin across south Florida. Gates believes that Jackie Chan should play him in a movie, that the Long Island Iced Tea (with fresh ingredients) is due for a resurgence and that the funniest thing to happen to him at work recently…Well, I think you all have been to Lake Worth Beach!
Photo Credit: Cynthia Ottuso
Nikos Mantzaridis
Meet Nikos Mantzaridis…Nikos is the Greek Clark Kent behind the stick at Wynwood's hottest watering hole, Beaker & Gray. He's a coffee man by trade but seems quite comfortable manning the bar and winning cocktail competitions throughout South Florida. He believes fresh ingredients are the key to the resurgence of many forgotten 80's and 90's cocktails. His energy and passion permeates throughout Beaker & Gray, making every night special and full of surprises.
Tiffney Allen
Meet Tiffney Allen…Tiffney is the bookworm behind the bar at Fort Lauderdale hot spots Valentino Cucina Italiana and One Door East. She hails from West Texas and in her spare time can be found eating pork belly tacos and guzzling small batch bourbon with fellow Shaken contestant Ayme Harrison. Tiffney has a fear of floor drains, has no use for cocktails from the 80's and doesn't condone smoking weed in the bathroom prior to service. If this Texas transplant is as good her bio, well…things could get very interesting!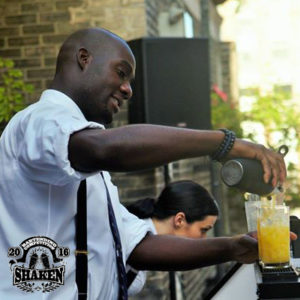 Adrian Watson
Meet Adrian Watson…Adrian is the man behind the…Desk at The Breakers Private Beach Club. That's right, he is the Bungalow Conceirge at one of Palm Beach's most exclusive properties. But don't be fooled, Adrian is no slouch behind the stick. Originally from Jamaica where he was the Brew House Operator for Red Stripe, Watson honed his chops at The Park Restaurant in Chelsea while founding NYC's first organic bartending service. Let's see if he can have a "cool run" through Shaken.
Rebekah Young
Meet Rebekah Young…Rebekah is the the health conscious drink slinger behind the stick at Kapow! Noodle Bar. Her favorite night to work is Monday, when the "In-the-Biz" crowd piles in to enjoy great cocktails and their infamous ITB discount. In her spare time, Rebekah can be found bar hopping all over Boca while dreaming of the day Mila Kunis portrays her in her next film. She loves the "Cosmo", fresh pressed organic juices and dressing up as Pokemon on Sundays…even when she is not supposed to.
Vincent Toscano
Meet Vincent Toscano…Vincent is the face behind the bar at Le Rendez-vous in West Palm Beach. His favorite night of the week is Saturday, where the "Island People" cross the bridge and party to deep house music and guzzle down his concoctions. Most of Vincent's free time is spent playing with his toys and hanging with his wife. He's a big fan of the White Russian and The Big Lebowski but prefers Travolta over Bridges to play him in a movie. West Palm's favorite Frenchman believes the industry's next big trend is a line of his own infusions and hopes that they will one day be on the back bars of watering holes across the state.
Erica Watkins
Meet Erica Watkins…Erica is the face behind the bar at The Old Arcade, Delray's original speakeasy. She's a cat lady and spends much of her free time at the beach or by a pool. When behind the stick, she's trying to resuscitate the Gimlet, develop new tiki drinks and is dreaming of the day Amy Schumer plays her in the sequel to Cocktail. Erica 's favorite night to work is Tuesday and would love for you to swing by to try her "Blacker Rose" cocktail.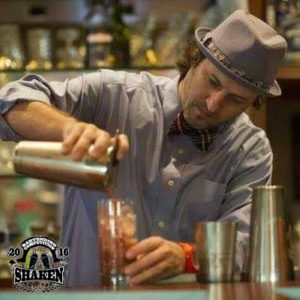 James Hartmann
Meet James Hartmann… When upright, James is the man behind the stick at Ian's Tropical Grill in Stuart. His favorite night is Saturday when half the town packs in to guzzle down his signature drink: "Bitch Don't Call Me Honey". He's a history buff, a weekend yachtsman and a Jared Leto wannabe. Now let's see if James can put it all together and make Stuart proud in our inaugural event.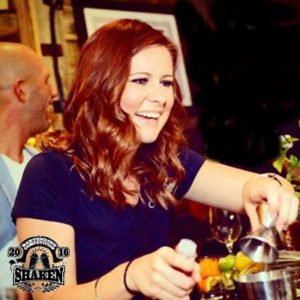 Tiffini Grant
Meet Tiffini Grant…Tiffini is the OG bartender at Apeiro Kitchen & Bar and has been making magic happen there since their opening in January of 2015. She is a doer of good deeds, rescuing wine that has been trapped in bottles for far too long and is also a new member of the USBG Palm Beach Chapter. Her favorite cocktail at Apeiro is the "Drunken Frenchman" and well, she finds actual drunk men who are French are pretty great as well. Let's see how far her witty banter, boisterous personality and "baby blanky" get her in our inaugural competition…
Justin Himmelbaum
Meet Justin Himmelbaum. Justin is the owner of Mucho Gusto and the man proudly slinging Sour Suzeys at Delray Beach's Park Tavern. Justin makes great use of his spare time, he can usually be found sprawled out on his couch naked with some ice cream, a couple of shake weights and a 12 pack of Corona! Despite being relatively new on the cocktail scene, Himmelbaum has dreams of bringing the classic Stinger cocktail back to its heyday and sees Suze & Sherry as the next big trends in the industry.
James Serra
Meet James Serra. He's currently a free agent, spent 5 years as a roadie with the Disco Biscuits and considers himself a "dirty hippie". In his spare time James can be found cutting a rug at the local disco and truly believes that John Travolta will play him in a reboot of Saturday Night Fever, where Tony Manero is a dancing flair bartender. James wants your artisanal ice sculptures to stay out of his Negronis and sincerely hopes that his next gig behind the stick includes a Vitamix so he can continue perfecting the industry's next big trend: The Frozen Drink!

Matthew Swig
Meet Matthew Jerimiah Swig. He is the owner of SWIG Beverage Inc. and will be behind the bar at Lindsay Autry's soon to open eatery, The Regional Kitchen & Public House. He calls himself a "Drink Chef", writes tunes, accepts tips in Fro-Yo coupons and can me more long winded than yours truly! Swig is currently rescuing the Tequila Sunrise from the 70's, all while slaving away in his lab trying to take his game to the next level!

Keith Popejoy
Meet Keith W Popejoy! If you like Red Headed Sluts and Fernet, then Keith is your man. He can be found slinging drinks at various Palm Beach County joints, all while trying to drown out his mother's disappointment that he doesn't have a "real job". He pretends to speak French, thinks Bruce Willis should play him in a movie and is saving up for laser hair removal to rid himself of that mop that currently resides on top of his head. In preparation for Shaken, Keith is spending the majority of his spare time at Harry's Banana Farm; studying classics, working on technique and dreaming up new cocktails over a bottle of "champagne". Let's see if all this hard work pays off…
Brian Sassen
Meet Shaken's first bartender, Brian "Boom Boom" Sassen! If he's not slinging cocktails or being a body shot model at Repour Bar, you can find him slumming around South Florida with The Real McCoy Rum. He's a real dope rapper, loves being referred to as a mixologist and has reinvented the Brass Monkey cocktail. He's currently in love with the "Smoke Crack With Me Bro" on Repour's seasonal cocktail list. Let's see if the judges love the "Boom Boom" as much as the ladies do!